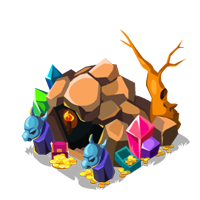 ***EXPIRED***
"Mine the Treasure Cave to collect Gold for your Dragon Island! Remember to keep mining every day before your cave is mined out!"

Level Available: 2
Cost: 500

Build Time: 0 hours
Exp. Gained: 1000

How it works: The Treasure Cave has a count down. You can mine 21 Gold every 22 hours from the Treasure Cave. The Treasure Cave has an expiration time, in which it can no longer be mined.
Notes
The Treasure Cave was available from January 4th 2013 - January 10th 2013.

The Treasure Cave was released again for a limited time on February 21st 2013.
Ad blocker interference detected!
Wikia is a free-to-use site that makes money from advertising. We have a modified experience for viewers using ad blockers

Wikia is not accessible if you've made further modifications. Remove the custom ad blocker rule(s) and the page will load as expected.