Main Leaderboard Event Page - Skylord Leaders Leaderboard Event - Next Leaderboard Event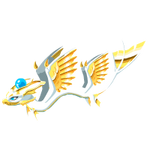 Skylord Leaders Leaderboard Event

The Skylord Leaders event was all about breeding and hatching. Earn points with every dragon you breed, hatch, and more.

You could earn points

by taking these actions around your Isles:

Milestone Points & Prizes
Rank Number & Prizes
Points
Prize
Rank
Prize
3,900
1st
3,000
2nd
2,300
3rd
25,000 20
1,700
4th - 6th
20,000 35,000 10
1,200
varies
7th - 12th
15,000 25,000
800
varies
13th - 20th
12,000
400
varies
-
-
50
varies
-
-
Notes
The Skylord Leaders Leaderboard Event was available at level 14.
The Skylord Leaders Leaderboard Event began on March 29, 2016 and ended on April 5, 2016.
The Skylord Leaders Leaderboard Event was the first limited time Leaderboard Event released in Dragon Story.
Ad blocker interference detected!
Wikia is a free-to-use site that makes money from advertising. We have a modified experience for viewers using ad blockers

Wikia is not accessible if you've made further modifications. Remove the custom ad blocker rule(s) and the page will load as expected.