Feature Overview
How it works...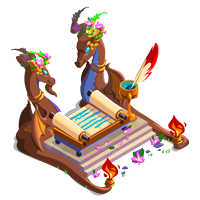 Dragon Tales Archive
Complete all Chapters of the Dragon Tales events to earn new dragons and learn about the origins of the Dragon Isles along the way!
New prize after completing each chapter!
This page contains the most recent or currently active Dragon Tales Event.
A list of all Dragon Tale Events can be found here.


Please refrain from posting Neighbor requests on this page or any other Dragon Tales page.

***As per the Dragon Story Wiki:Code of Conduct - Neighbor Request: The Neighbors page is the only place outside of a user's profile and personal pages for neighbor requests to be posted. Any neighbor requests posted outside of the designated areas will be removed.***
Current Dragon Tales
Birthday Bonanza Dragon Tales Event

The Birthday Bonanza Dragon Tales Event was available at level 17.
Levels 91-200 - Levels 51-90 - Levels 17-50

IN PROGRESS
---
Chapter 1 (4 Acts)
1. Plant 6 Firapples. (Skip: 12

)
2. Harvest 6 Firapples. (Skip: 50

)
3. Feed ANY dragons 5 times. (Skip: 10

)(Prize: 100 B-Day Cards

)
4. Plant ANY 6 crops. (Skip: 12

)
Prize: 1 Neo Air Favor
---
Chapter 2 (4 Acts)
1. Feed ANY dragons 8 times. (Skip: 16

)
2. Plant 3 Impruberries. (Skip: 48

)(Prize: 140 B-day Cards

)
3. Collect Small Gifts from Breeding. (Skip: 30

)(Prize:Neo Air Favor
)
4. Start crafting your Neo Air Dragon. (Skip: 14

)
Prize: 15,000

---
Chapter 3 (3 Acts)
1. Finish crafting and hatch your Neo Air Dragon. (Skip: 21

)
2. Raise Neo Air Dragon to level 3. (Skip: 7

)(Prize:175 B-day Cards

)
3. Start the "A Good Gift" Quest. (Skip: 7

)
Prize: 2,500

---
Chapter 4 (4 Acts)
1. Start the "Thought Counts" Quest. (Skip: 7

)
2. Raise Neo Air Dragon to level 4. (Skip: 20

)
3. Breed with a Mist Dragon.(Skip: 50

)(Prize:200 B-day Cards

)
4. Start crafting a Howler Grass

. (Skip: 20

)
Prize: 12 Mystic Maps
---
Chapter 5 (4 Acts)
1. Raise Neo Air Dragon to Level 7. (Skip: 21

)
2. Craft and decorate with a Howler Grass

(Skip: 25

)(Prize:300 B-day Cards

)
3. Collect Small Gifts from Breeding. (Skip: 30

)(Prize:1 Neo Fire Favor
)
4. Start the "A Good Gift" Quest. (Skip: 7

)
Prize: 4,000

---
Chapter 6 (5 Acts)
1. Start crafting a Wrapping Tree

.(Skip: 12

)
2. Hatch a common Party Dragon (Breed Red + Yellow). (Skip: 50

)(Prize:1 Neo Fire Favor
)
3. Start the "Thought Counts" Quest. (Skip: 15

)
4. Raise your Neo Air Dragon to Level 11. (Skip: 100

)
5. Collect Small Gifts from Breeding. (Skip: 60

)
Prize: 500 B-day Cards

---
Chapter 7 (5 Acts)
1. Complete the "A Good Gift" Quest. (Skip: 24

)
2. Raise Neo Air Dragon to Level 13.(Skip: 150

)(Prize:1 Neo Fire Favor
)
3. Craft and decorate with another Wrapping Tree

. (Skip: 25

)(Prize:650 B-day Cards

)
4. Breed with a Neo Air Dragon. (Skip: 25

)(Prize:1 Neo Fire Favor
)
5. Start crafting your Neo Fire Dragon. (Skip: 9

)
Prize: 12 Island Parts

---
Chapter 8 (5 Acts)
1. Raise Neo Fire Dragon to level 5. (Skip: 50

)
2. Breed Neo Air Dragon with a Party Dragon. (Skip: 50

)
3. Win 1 Fight with your Neo Fire Dragon. (Skip: 25

)
4. Raise Party Dragon to Level 6.(Skip: 12

)(Prize:900 B-day Cards

)
5. Win 2 Fights in the Battle Arena.(Skip: 50

)
Prize: 4 Howler Grass

---
Chapter 9 (5 Acts)
1. Win 2 Fights with your Neo Fire Dragon.(Skip: 50

)
2. Raise your Neo Fire Dragon to Level 8. (Skip: 30

)
3. Complete the "A Good Gift" Quest. (Skip: 24

)
4. Craft a Colorful Candles.(Skip: 40

)(Prize:1,400 B-day Cards

)
5. Raise your Neo Air Dragon to Level 14. (Skip: 180

)
Prize: 60 Raw Marble

---
Chapter 10 (5 Acts)
1. Receive 5 Party Prizes from Neighbors.(Skip: 35

)
2. Harvest 6 Firapples. (Skip: 12

)
3. Raise your Neo Fire Dragon to Level 12.(Skip: 225

)
4. Craft and Decorate with a Present Pile

.(Skip: 75

)
5. Win 4 Fights in the Battle Arena.(Skip: 100

)(Prize:1,900 B-day Cards

)
Prize: 1 Neo Supreme Dragon
Dragon Tales: Birthday Bonanza